"Where Do You Buy Your Leathers?"
Hi everyone.
Hope you are doing fine while reading this.
So, many people ask me where I buy my leathers and as far as I remember, I have always answered.
But… there is this guy on YouTube always asking over and over again, where I buy my leathers, although I have answered him already.
And here is a print to show that I answered him a long time ago (More than 4 months is "a long time ago", isn't it? 😀 )
——————————————————————————————–

——————————————————————————————–
Maybe my answer was little complicated to understand? (And I am not making a joke here)
So, you may still ask "Herr Ledermann, where do you buy your Leathers?"
As you can see on the image above, I would answer "I buy them everywhere".
And then you would ask "But where is "everywhere""?
Ok, Ok… 😀 So by "everywhere" I mean everywhere, where I can afford.
I buy new pieces and also buy 2nd Hand Leathers.
I really don't care if it's old or new, as long as I like it and of course, as long as I can pay for it.
For example, this winterjacket, I bought on a Shopping Mal here in my town.
It's my first eiderdown jacket, but the only one with a hood. It was the last one on the shelves and I bought it, cause, although it is a little bigger than my size, the price was really a nice bargain.
This Coat, that has been one of my favorites, I bought on a 2nd Hand Market also here in my city.
I saw it there and asked to try it and although there wasn't a mirror there to check myself and see if it looked nice, I bought it, cause it was really cheap.
Fortunately, it fits me… don't you think? 😀
Well, some of my Leathers, I bought on Ebay some I bought on Leather Clothing Stores as you can see in this old video (Click the link below)
leatherpoint.de/vichannel/watch_video.php?v=8HN8XWGG19B4
– I bouhgt a pair of pants that day – and as I already posted here once, I also make some of them – Read about it here)
And although I buy on Ebay, I am not very fond of this type of buying, cause most of the time the pieces are either too small or too big.
But I don't see this as a big problem if I didn't pay too much for them.
Here's an example… I bought these "modern" pants on Ebay, but unfortunately, they are too tight on my waist, although they are supposed to be my number…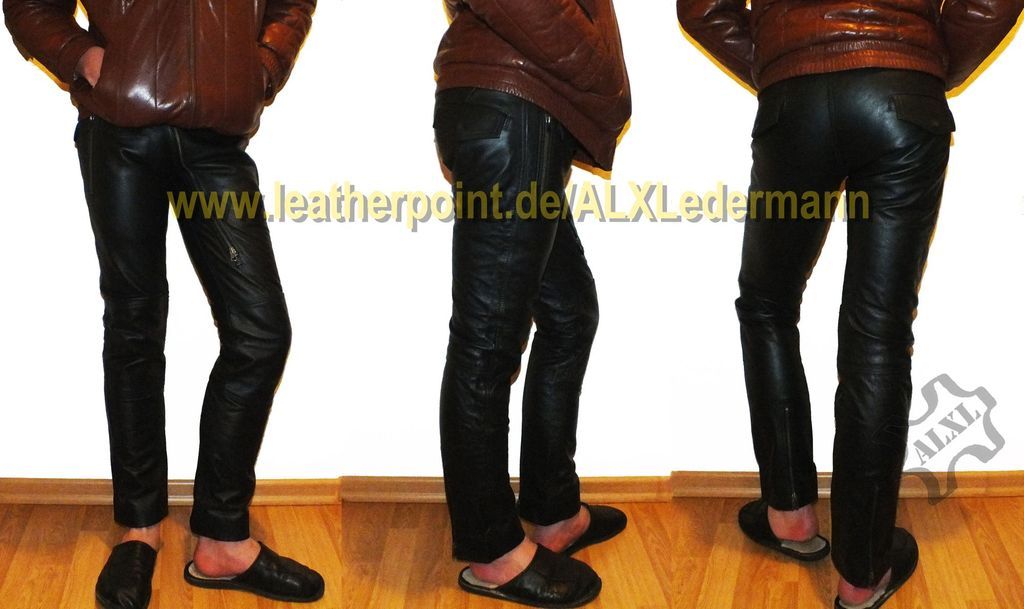 I need to re-sell them, as I also have some other pieces that need to take the same destination.
Who knows, maybe I'll make some pictures before I put them online…. If I ever put them online … he he he
So, I think the answer to the question "Where do you buy your leathres" is quite clear now, isn't it? 🙂
Stay nice! 🙂
3,740 total views, 4 views today
by