Throwback-Donnerstag
Hallo everyone,
So, today I decided to give myself a "Throwback Thursday" as you may have already seen on my last uploaded Video.
And by "Throwback Thursday", I mean going out in "Biker Gear" for a little show off… well, back in the days there was also a Bike with me… but not anymore! 😀 (*Gear = I just don't like this word!!!!!!!!!!!!!)
If you, reading now, never knew I was (am?) a Biker, here's a picture from the (good) old days.
And right below an extra "Show Off Video" from today.
Stay nice! 😉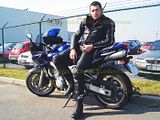 2,626 total views, 8 views today
by